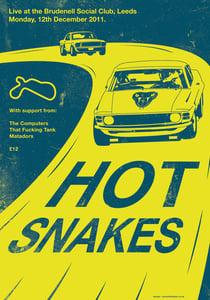 £

20.00
*screen print sold out, digital print available here... http://society6.com/benwhittington/Hot-Snakes-Gig-Poster_Print
---------------------------------
Screen printed by hand and limited to 40 copies, each print is numbered and signed.
Phthalo Blue Acrylic on Dresden Yellow 300gsm Card, 272 x 384mm.
Due to the nature of the process in which these posters were created each one features different levels of distress and unique imperfections that mean no two prints are the same.